'we Were A Defensive Team But We re More Aggressive Now Since Seikoo Joined Interview With Endpoint Uk Rocket League Player Relatingwave By Craftman Powered By Msi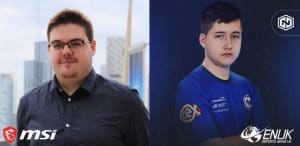 Esports News UK is hosting a series of big interviews live on Twitch over the next month powered by MSI, the first of which focuses on rising UK Rocket League star, Lucas 'RelatingWave' Rose.
RelatingWave is team captain for UK organisation Endpoint, who have made a big impact this year, having won two EU Regionals and reached the quarter finals of the recent Rocket League Fall Major. Scottish caster Adam 'Craftman' Stewart interviews RelatingWave in this special interview.
Continue reading 'We were a defensive team but we're more aggressive now since Seikoo joined' – interview with Endpoint UK Rocket League player RelatingWave by Craftman | Powered by MSI
Read More
Gamble Now